Enter details
Payment
Complete!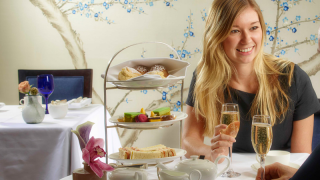 Royal Afternoon Package
Spend an afternoon exploring Bath's iconic Royal Crescent, go behind the scenes at No.1 Royal Crescent museum and enjoy a Quintessential Champagne afternoon tea at the luxurious Royal Crescent Hotel.

Our Royal Afternoon Package includes a visit to No.1 Royal Crescent, the best address in Bath!
This fascinating museum allows you to experience the lives of those who lived upstairs and downstairs in Georgian times. Each room is an exquisite example of Georgian interior design with authentic furniture, paintings, textiles and carpets. From the elegance of the drawing and dining rooms, the bedrooms and parlour, to the warren of servants' corridors, kitchen, scullery and housekeeper's room, the house portrays a series of intriguing stories.
Following your visit to No.1, take a short stroll further along the beautiful Royal Crescent, taking in the architecture and views for the second part of your package. A quintessential Champagne afternoon tea at the five star Royal Crescent Hotel. This traditional English treat is served next to a roaring fire in the winter or alfresco in the private garden in the summer. Enjoy a variety of delicious sandwiches, tasty homemade cakes, warm scones and Bath buns, accompanied by a choice of tea and a glass of Champagne.
This special package costs £51 per person and must be booked in advance due to limited availability, especially at weekends.
Please select your date and time for your tea at The Royal Crescent Hotel below.
Your Basket
Item
Price
Qty
Subtotal
There are no items currently in your basket

Total

£0.00