Enter details
Payment
Complete!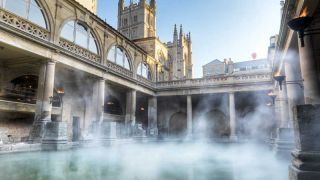 Attractions, Museums and Lunch Package
Save over 10% by purchasing a Saver Package to the Roman Baths, Fashion Museum and Victoria Art Gallery along with lunch at the Roman Baths Kitchen.
The Saver Package is a great way to explore three of Bath's most popular museums, including a tasty lunch.
After walking around the ancient baths steaming with hot water, tuck into a two course set lunch at The Roman Baths Kitchen, just across the courtyard. The restaurant prides itself on using locally sourced ingredients to create delicious homemade dishes.
Following lunch, head up to the Fashion Museum, a world-class collection of contemporary and historical dress. The displays show the story of fashionable dress over the past 400 years, with the opportunity to try on some corsets, top hats and bonnets.
Next, visit the Victoria Art Gallery to see the permanent collection of art and sculpture as well as the current temporary exhibition. This pass allows you to visit these top attractions over several days (within a 14 day period) and saves you over 10% on total costs.
PLEASE NOTE: These tickets are valid for a limited period. They will have a maximum of three months to their expiry date. When you arrive at the Roman Baths, please join the pre-purchased tickets line.
Your Basket
Item
Price
Qty
Subtotal
There are no items currently in your basket

Total

£0.00